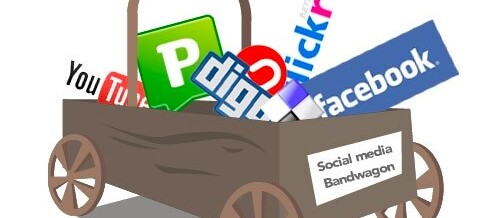 Social Networking Sites are dynamic in nature and have very few static pages. At such instances, it becomes very difficult to do SEO of Social Networking Websites. We also know that On-Page / On-Site SEO plays a vital role in boosting Search Engine ranking. So, now the question arises how to move on with SEO of such websites?
So, the answer is quite simple that you just need to do a little on-site SEO for static pages and will have to pay more emphasis on off-page SEO.  To be very specific, I will say it as 'content marketing and brand promotion'. Instead of doing SEO, you should spread your website among crowd such that it reaches to mouth of every individual. You may take help of content marketing for this task.
What is Content Marketing?
Content Marketing refers to the various means of promoting or publicizing your products and services among online hub. This may include of submission of Articles and Press Releases, Guest Blogging, Videos, PDFs, DOCs, PPTs, Photos, Directory Submissions, Social Bookmarking, etc. More emphasis should be paid on viral marketing techniques.
What is Viral Marketing?
Viral Marketing refers to advertising technique that provokes websites or visitors to communicate marketing message to other websites or visitors, producing a potentially exponential expansion in the message's visibility and outcome.
Tips for SEO of Social Networking Websites
1) Article Submissions: Write good quality keyword rich content and submit it to High PR Article Directories with backlink to your website in signature/Resource Box.
Example: Ezine Articles
2) Press Releases: Write premium quality press release and submit it to High PR Press Release sites. You may think of including images and videos in it.
Example: PRNewsWire
3) Video Sharing: Make expressive videos and share them on video sharing platforms. They are one of the best ways of content marketing.
Example: Youtube
4) Guest Blogging: Write unique article and request them to be posted on niche blogs with High PR. Do not forget to receive a backlink to your website in Source.
5) DOCs, PDFs and PPTs: Marketing ways have now taken a turn and now you can promote your website via DOCs, PDFs and PPTs.
Example: Youblisher, Slideshare
6) Photo Sharing: Pictures express you words. They are self expressive. Around 30% of visitor comes to website via searching images. So images are also significant.
Example: Flicker
7) Social Bookmarking: One of the most traditional and common way to generate backlinks is Social Bookmarking. Backlink to website should be generated on targeted keyword.
8) Directory Submission: One of the oldest but still in practice is Directory Submission. It is one of the simplest ways to generate backlinks on targeted keywords.
9) Classified Submission: Post a classified ad about your social networking website on these sites. There is a huge of list available over internet for classified submission.
Example: OLX
10) Forum Discussion: Participating in forums is easy and effective. Acting as general public you can promote or market your website on niche forums.
Example: Warriorforum
11) Email Newsletters: The oldest way of marketing is sending promotional emails. Email Marketing has always proven to be the most effective means for promotion. You can send interactive HTML newsletter using Mozilla Thunderbird.
12) Social Sharing: Sharing your social networking website over other social sharing platforms is one of the fastest ways of promotion. You could create Facebook Page where you frequently update your activity among fans, regularly tweeting will also work.
Example: Facebook, Twitter
Along with following all the above mentioned content marketing tips, website ranking should also be monitored on regular basis. Alexa, Google Analytics and Statcounter will be the best tools for these tasks. Hope the above content marketing tips will help in bringing significant recognition of your social networking website.